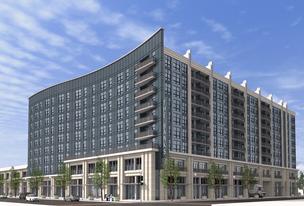 If developers can't land office tenants for the second phase of the Banks project, they might consider putting another hotel there, project officials told Hamilton County commissioners on Wednesday.
Commissioners approved changes on Wednesday to the Banks master development needed in order to move on with Phase IIA of the project, which will include 305 apartments on a single city block, double the density of the residential component of Phase I.
Project officials also provided new images of what Phase IIA will look like, including depictions of the courtyard in the 305-unit apartment complex and the space where an office tower will be built on top of first-floor retail, differentiating it from the empty space in Phase I.
If, as in Phase I, developers can't find tenants for the 10 to 20-story office pad, "potentially yet another hotel or commercial development" could go in the space, said Thomas Gabelman, project counsel for Hamilton County.
The Phase I hotel hasn't been built either but is still in the works, Gabelman said. It is expected to cost $40 million and have 200 rooms.
The apartments and 21,000 square feet of retail are expected to be ready for occupancy in September 2015. The exterior look of the apartments are an upgrade over Phase I, with each apartment having a balcony.
"In terms of the overall facade of the buildings, the overall look of the buildings, they are significantly different than Phase I," Gabelman said.
Gabelman also discussed the public infrastructure needs for future phases of the $2.5 billion Banks project – 3,000 more parking places in garages costing $70 million for three more city blocks. Funding for that has not yet been secured.