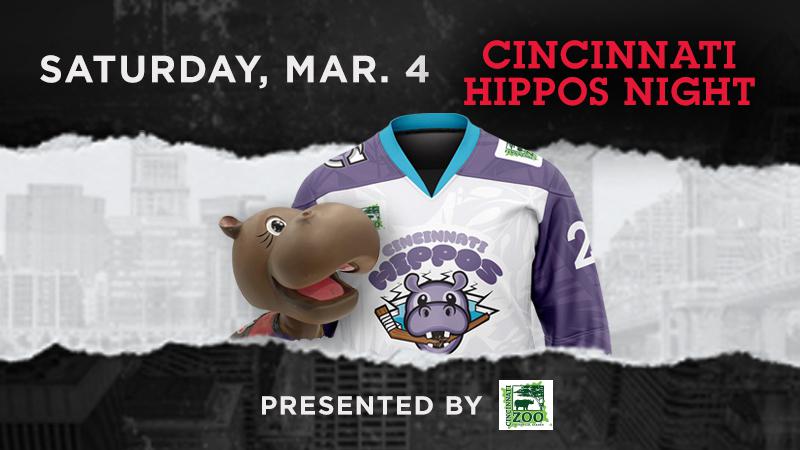 March 4
|
7:30 PM
–
9:00 PM
Cincinnati Cyclones & Zoo Unveil Hippo Night Jersey
Special Fiona Bobblehead Four Pack Also Released
Cincinnati, OH – The Cincinnati Cyclones have unveiled their one-night alternate identity for Hippos Night at Heritage Bank Center on Saturday, March 4. The partnership with the Cincinnati Zoo & Botanical Garden marks the fourth year the team has swapped names with a local landmark; previous pairings include: Flying Pig Marathon, Kings Island and Skyline Chili.
The jersey was designed by Cyclones graphic designer, Matt Scheer, with input from the zoo's marketing team. The jersey features:
Purple and white color palette with turquoise accents
An illustrated hippo chomping through a hockey stick as the crest
Subdued watermarked plant frond details
The Cyclones' and Cincinnati Zoo's primary logos on the shoulders with an additional zoo patch on the chest
Purple numbers and nameplate
Game-worn jerseys will be up for auction throughout the game via the Handbid app. The auction will end ten minutes after the conclusion of the game.