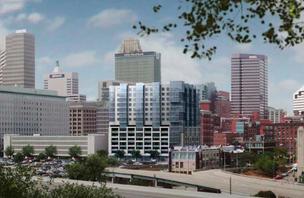 Cincinnati City Council approved three key deals that will bring more apartments to downtown, add more residents and retail to the Banks and help fund a technology campus in Over-the-Rhine.
Council approved a $3.5 million grant on Wednesday to North American Propertiesand NorthPointe Group so they can build a seven-story apartment building on top of a parking garage at Seventh and Broadway.
The $22.3 million project, which will include 111 high-end apartment units, has been in the works since 2002. There is already retail space on the first floor of the garage.
Apartments will range from studios to two-bedroom apartments with a den. The average unit will be 850 square feet. Rents are expected to be $2 per square foot, or between $1,200 and $2,200 per month.
Under the original deal, the developers were supposed to reimburse the city for the cost of building a garage strong enough that an apartment tower could be built on top of it. Council approved an ordinance waiving that $1 million payment.
The developers also will get up to $200,000 in reimbursement for lost parking revenues from the top floor of the garage being used during construction. Funds for the garage reimbursement and the $3.5 million grant will come from a city tax-increment financing fund that covers the east side of downtown and Over-the-Rhine.
NorthPointe and North American eventually will also get a 15-year property tax abatement.
Council also approved funding for Cintrifuse's new Over-the-Rhine headquarters, a tech campus that also will be used by CincyTech and the Brandery, and its share of funding for the second phase of the Banks.